Equity Index Market Briefs
Release date: 09 Jul 2020
| Eurex Exchange
Equity Index Highlights - July 2020 edition
Latest edition
For the first half of 2020, members and market participants have continued to operate under extraordinary working and living conditions. Their commitment to provide liquidity and facilitate best execution for clients, combined with Eurex's robust trading infrastructure, has proven vital to the market. Their support was seen through the substantial volume increases in a number of our benchmark products. EURO STOXX 50® Total Return Futures have been utilized by new clients as an alternative to a passive rolling futures strategy, given the uncertainty due to company dividend postponements and cancellations this year. The MSCI derivatives segment has enjoyed volume growth across several contracts; Japan, EM, World, Europe, EMU, Saudi Arabia, Canada, EM Asia & Latin America. One driver is that Eurex is viewed favorably as a stable venue for these key global contracts, given our long-term partnership with MSCI and the facility to transact during extended trading hours.  [...]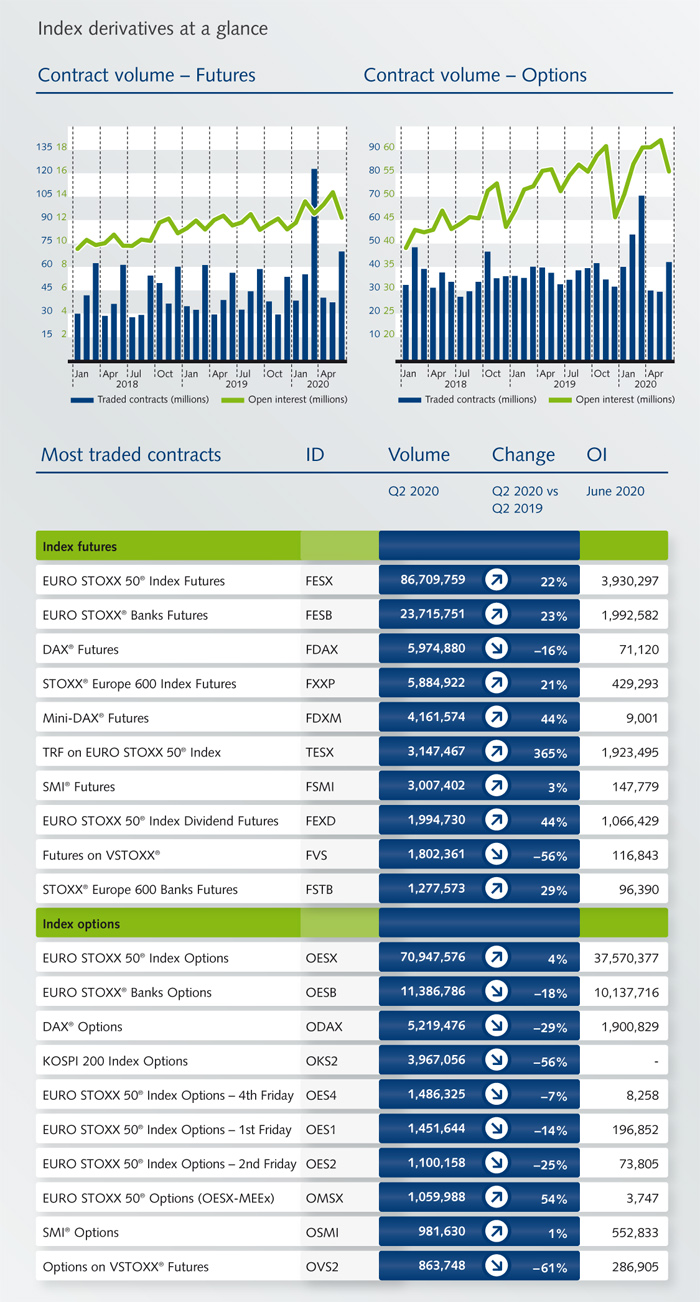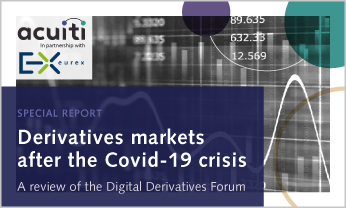 COVID-19 turned out to be the black swan event that became a real-life stress test for the derivatives industry. But, rather than COVID-19 slowing innovation down, it has accelerated the pace of change and innovation. This White Paper features analyses of the discussions that were held at the inaugural Digital Derivatives Forum. The fact that it was a virtual event, rather than in person, shows how innovation has been the solution to the challenges posed by COVID-19.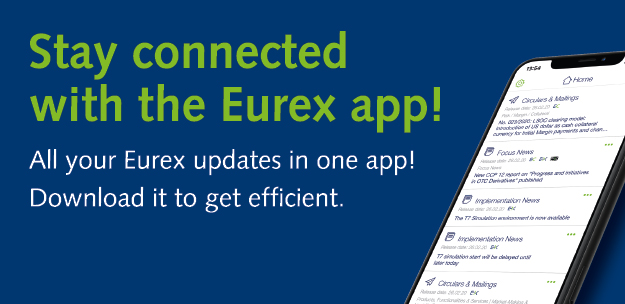 We are happy to announce that the all-new Eurex app is live!
Get all relevant news, circulars, readiness newsflashes and events from Eurex and Eurex Clearing. The app, called Eurex, is free to download for Android or iOS devices, via the Google PlayStore or the iOS AppStore. Once you have the app installed, you can easily tailor the features to your specific needs, such as customizing your personal newsfeed or personalize the app settings to receive selected content as notifications directly to your lock screen.
Eurex provides the possibility to negotiate deals and trade via Eurex EnLight without disclosing the requester and respondents' identities. The Eurex EnLight Anonymous Negotiation setting offers a new type of negotiation for requesters who are sensitive to inventory tracking or simply wish to remain anonymous. Anonymous Negotiation is not a fixed setting; requesters can opt for anonymity on a case by case basis.
ESG criteria are increasingly relevant to investors everywhere – but fixed-income investors need to view these factors through a unique lens. Eurex discusses those challenges and opportunities with James Purcell, Group Head of ESG Investment at Quintet Private Bank. This article is part of the recently published "European Pension Funds – ESG Focus Report" written by PFS, the World Bank and Eurex.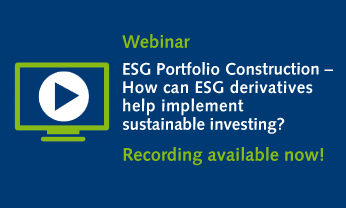 With the ever-increasing mandates and focus on building sustainable portfolios, global investors are increasingly looking for tools to help with their ESG integration. Watch MSCI's recent webinar on how ESG derivatives can help implement sustainable investing.
The new online analytics platform A7 offers direct access to advanced analytics based on Deutsche Börse's most comprehensive market data and supports clients in maximizing trading efficiency, alpha generation, and developing and testing execution algorithms.
The first virtual IDX took place from 23 until 25 June. Eurex sponsored the first day of the event and participated in three very interesting panels.
Thomas Book was part of the "Exchange Leaders" panel discussing the role of financial markets in the current crisis. Furthermore, our panelists from the sponsored session – Randolf Roth, Member of the Eurex Executive Board, Tobias Lindemann from Goldman Sachs, and Harold de Boer from Transtrend – examined the trading view on the crisis.
The topic of the second day was "Volatility and the Pandemic: Did Systems Work?" Here, Jens Janka, Head of Eurex Clearing Delivery & Control, participated and discussed the challenges faced, the industry response, and the lessons learned.
Subnavigation
Eurex Group on