Fixed Income Market Briefing
Release date: 12 Nov 2019
| Eurex Exchange
Fixed Income Highlights - November 2019 edition
Latest Edition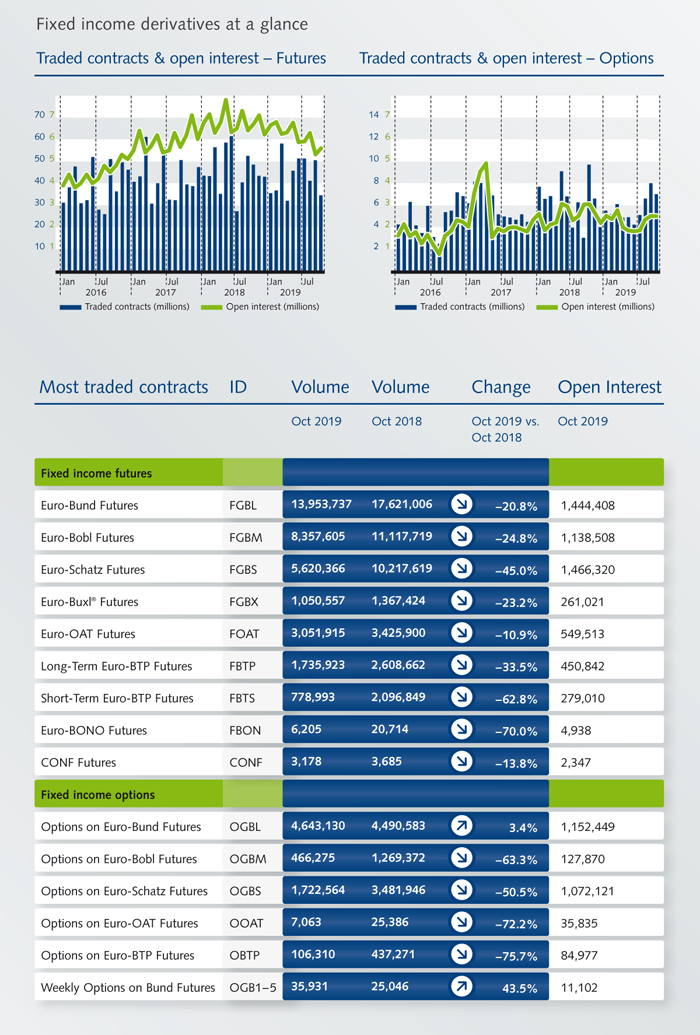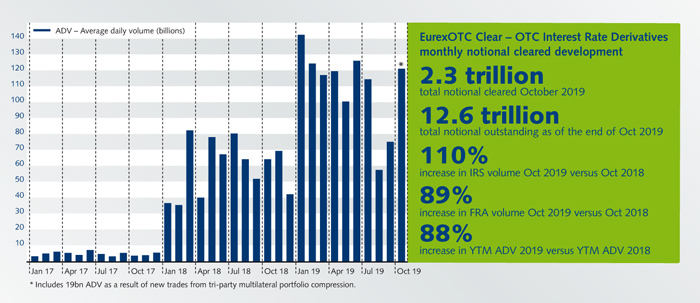 Eurex Clearing clears first cross currency swap transactions

Eurex Clearing, one of the leading CCPs globally and part of Deutsche Börse Group, has cleared the first cross currency swap transactions. The trades were submitted by J.P. Morgan and Morgan Stanley as the first OTC FX clearing participants. Cross currency swaps are an important component of Deutsche Börse's FX strategy, consisting of the FX offerings of Eurex, Eurex Clearing and 360T. 
DekaBank successfully switches swap book to Eurex Clearing

DekaBank, the Wertpapierhaus (securities services provider) of the German Savings Banks Finance Group, has successfully transferred a substantial portion of its swap book from London Clearing House LCH to Frankfurt-based Eurex Clearing in a single day.
Buy-side moves on central clearing

Jonathan Lombardo, Senior Vice President fixed income derivatives funding and financing at Eurex Clearing, outlines the strategy for buy-side clients to access centrally cleared repo and securities lending markets in the current issue of the Securities Lending Times. Read the article in the Securities Lending Times (page 13-15).
Discounting switch from EONIA to €STR for cleared OTC EUR derivatives

Starting 18 November 2019, €STR-linked OTC swaps will be eligible for clearing in the EurexOTC Clear service. All EurexOTC Clear derivatives denominated in euro, including €STR swaps, reside in an EONIA-based Price Alignment Interest (PAI)/Price Alignment Amount (PAA) and discounting regime. The next important milestone for the cleared derivatives market is the adoption of an €STR-based PAI/PAA regime. Eurex Clearing circular 096/2019 outlines changes and future steps envisaged by Eurex Clearing to support and facilitate a successful transition of the cleared markets from EONIA to €STR for Eurex Clearing, its Clearing Members and their clients.
Swiss Life Asset Managers uses Eurex Clearing's direct CCP access to clear OTC IRS with ABN AMRO Clearing acting as the Clearing Agent. In this video, experts from the participating firms explain the benefits from their point of view. 
Join one of our OTC Derivatives Briefing events: Frankfurt 13 November, London 21 November and Dublin 27 November. At the briefings, we will lay out plans buy-side firms can adopt to achieve greater capital and operational efficiency when complying with upcoming OTC regulatory obligations for clearing and collateral management. In this video, our experts give you a preview of which insights they will share with you. Sign up now! 
The Derivatives Forum Frankfurt 2020 is a full day of discussions, thought leadership insights, industry debates and networking with peers. One of the leading events on derivatives, trading and risk management, the Derivatives Forum will take place on 27 February 2020 as part of a series of forums.

Subnavigation
Eurex Group on